[PC][PS][Xbox] Crossout: Between two fires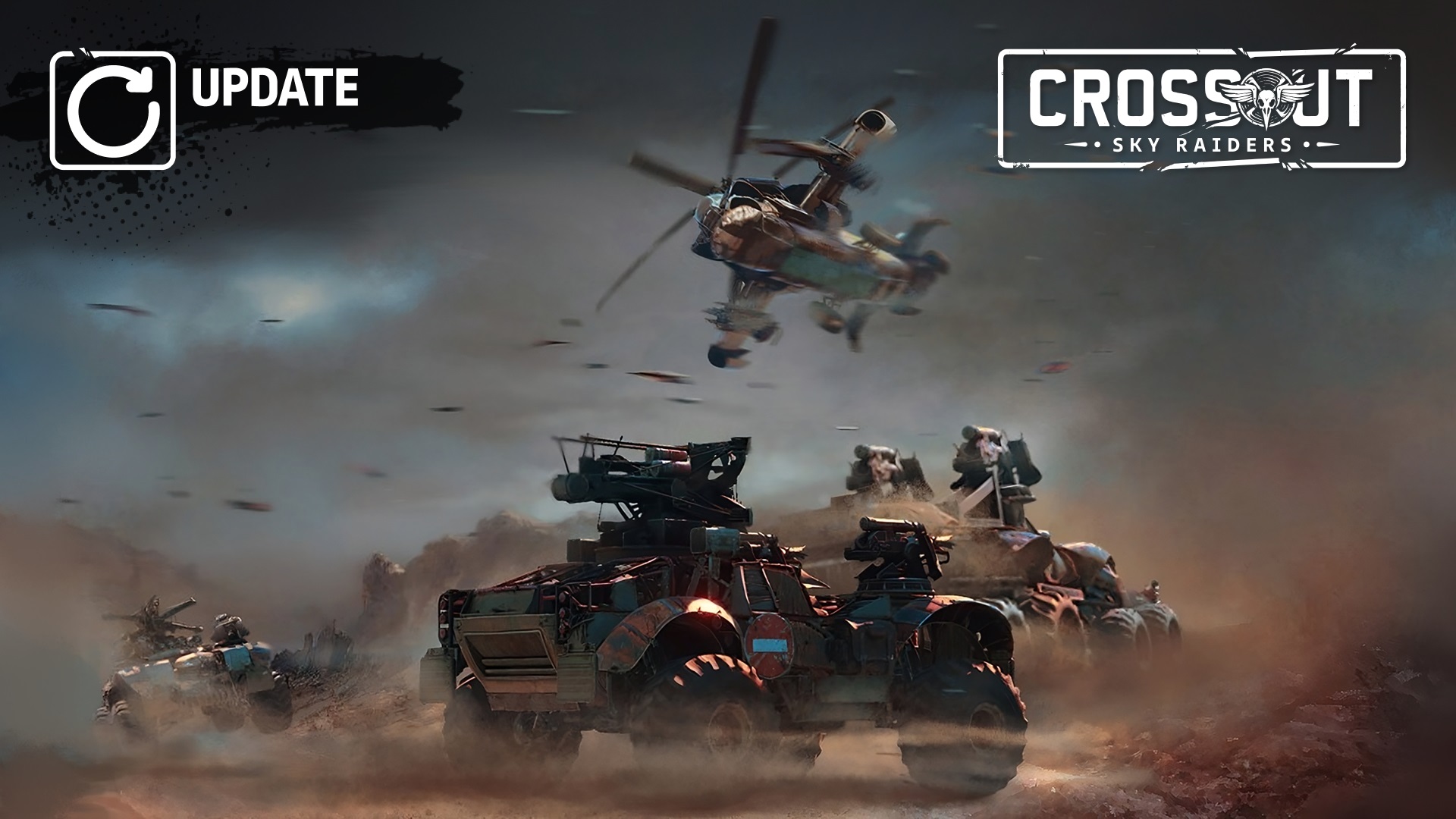 In this minor update, you can expect 2 events at once: "Between two fires" with a reward scale and production of valuable parts, and the long-awaited return of the Ravens in "Raven's path"!

Between two fires
Attention! The event and packs will be available until December 13 inclusive!
The levels and corresponding rewards are unlocked as you complete special challenges and earn event experience points.
Event experience points are required to unlock levels and receive rewards.
As part of this event, you will be receiving new challenges: 1 main and 1 additional challenge.
New challenges appear every day. All uncompleted daily challenges are accumulated.
The base event rewards are available to all players without exception. They include:

Coupons for factional workbenches;
50 in-game coins;
A number of stickers and the "Exhaust module" decor;
Containers with resources;
Engineer badges.

All additional rewards (marked with a lock icon on a blue background) are only available to those who have purchased the "Between two fires" pack (standard or deluxe version). Purchasing the deluxe version immediately unlocks the following 10 levels and all the rewards of the unlocked levels.
Purchasing the pack gives you access to:

Certain already produced parts;
Recipes for the production of certain upgraded parts on the event workbench;
Additional 550 in-game coins;
3 paints, a number of stickers and decors (left and right "Excavator headlight" and "Light bar");
Storage expansion;
For each subsequent level, starting from 41, you will receive the scope "Iris" as a reward. These scopes can be used in the production of parts on a special event workbench, as well as sold or used in upgrades.
Attention! The "Between two fires" packs will be available:
PC: from 06:00 GMT on November 16 to December 13 inclusive;
Consoles: from 10:00 GMT on November 16 to December 13 inclusive.

Raven's path
Earn talers and produce exclusive parts of the Ravens and Knechte!
Attention! The event will last from November 23 to December 3 inclusive!
Special mission "Raven's path"!
The mission counts towards the progress of daily challenges.
For taking part in the mission, the player receives a special temporary resource: talers.
These hexagonal coins, talers, are left from the Knechte. The Ravens defeated the Knechte in a fierce battle, but preserved their legacy. And so talers still remain a running currency.
Active "Premium subscription" increases the number of talers received as a result of the battle.
Talers can not be sold or purchased through the in-game market.
After the end of the "Raven's Path" event, all unused talers will be withdrawn from the option to exchange them for any other resources.
Talers, as well as a certain amount of resources and parts, can be exchanged for items from a special temporary workbench, "Raven Pavilion".
Temporary workbench "Raven Pavilion"
This workbench features a full range of parts and cosmetic items that are exclusive for the Ravens and Knechte and that cannot be produced after the event is over.
Weapons
Special revolver "Emily".
Small caliber cannon "Median".
Epic crossbow "Spike-1".
Legendary crossbow "Toadfish".
Hardware
Rare detonation module "Rift 2M".
Rare coupling module "Contact 2M".
Epic defence module "Argus".
Movement parts
"Gun-mount wheels" and "Gun-mount wheels ST".
Bonus
In addition, you will be able to produce a number of other parts from the temporary workbench range. Pay attention to their recipes - they are different from those featured on factional workbenches.
"Quasar".
"Oppressor".
"Spectre-2".
"Fortune".
"Reaper".
Cosmetic items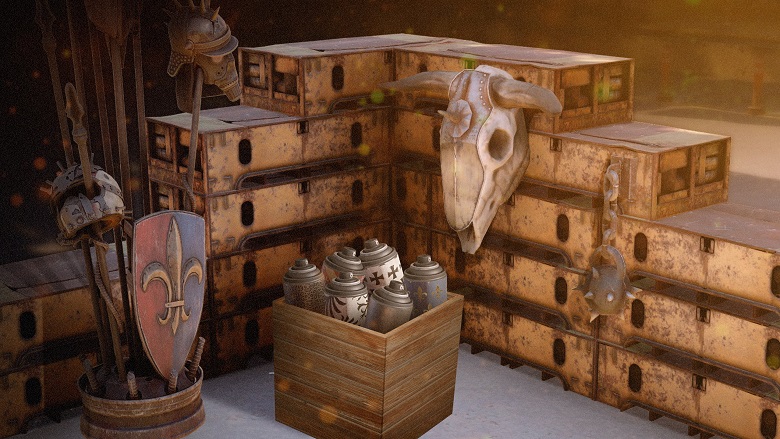 Decor: "Armored skull", "Bludgeon" and "Martin's helmet".
Horn "Huntsman's horn".
Hologram "Wingbeat".
Paint: "Teutonic cross", "Teutonic ribbon", "Teutonic eagle", "Burnished steel", "Fleur-de-lis", "Material: Plate Steel" and "Damascus Steel".
Various stickers of the Knechte and Ravens.
Medals
During the event, it is possible to receive the "Treasurer" medal:
For the 1st level of the medal you receive a unique banner logo.
For the 2nd level of the medal you receive a unique portrait "Stevo".

Added changes to the armoured aircraft controls, which could previously be tested on a special server. They aim to increase the dynamics of aerial combat and make it more intuitive and convenient:

Now, at small angles of inclination along the pitch axis, armoured aircraft can fly without gaining altitude. This will allow armoured aircraft to approach the enemy more easily, while opening fire at the same time.
A limited roll to the left/right (the A/D keys) no longer leads to loss of altitude at small angles of inclination along the pitch axis. This will simplify altitude control during aerial combat.
Acceleration is now less dependent on pitch angle and is now stronger at low pitch angles. This increases maneuverability, allowing you to change direction faster and reduces the influence of inertia.
The vertical braking force has been increased, which should provide greater control of movement.
Improved overall stability of armoured aircraft in the air.

Increased the height of the "upper border" on the "Desolate town" map.
Improved visual effects of the "Manitou" cabin.
Improved the placement of the "Avia strut" on the part icon in the storage.

Fixed incorrect display of highlighting of some buttons in the interface when moving the cursor over them.
Now, when selecting a non-tradable item on a workbench, a message indicating that the item cannot be sold no longer appears.
Improved client stability.
Improved a number of in-game texts, descriptions and icons.