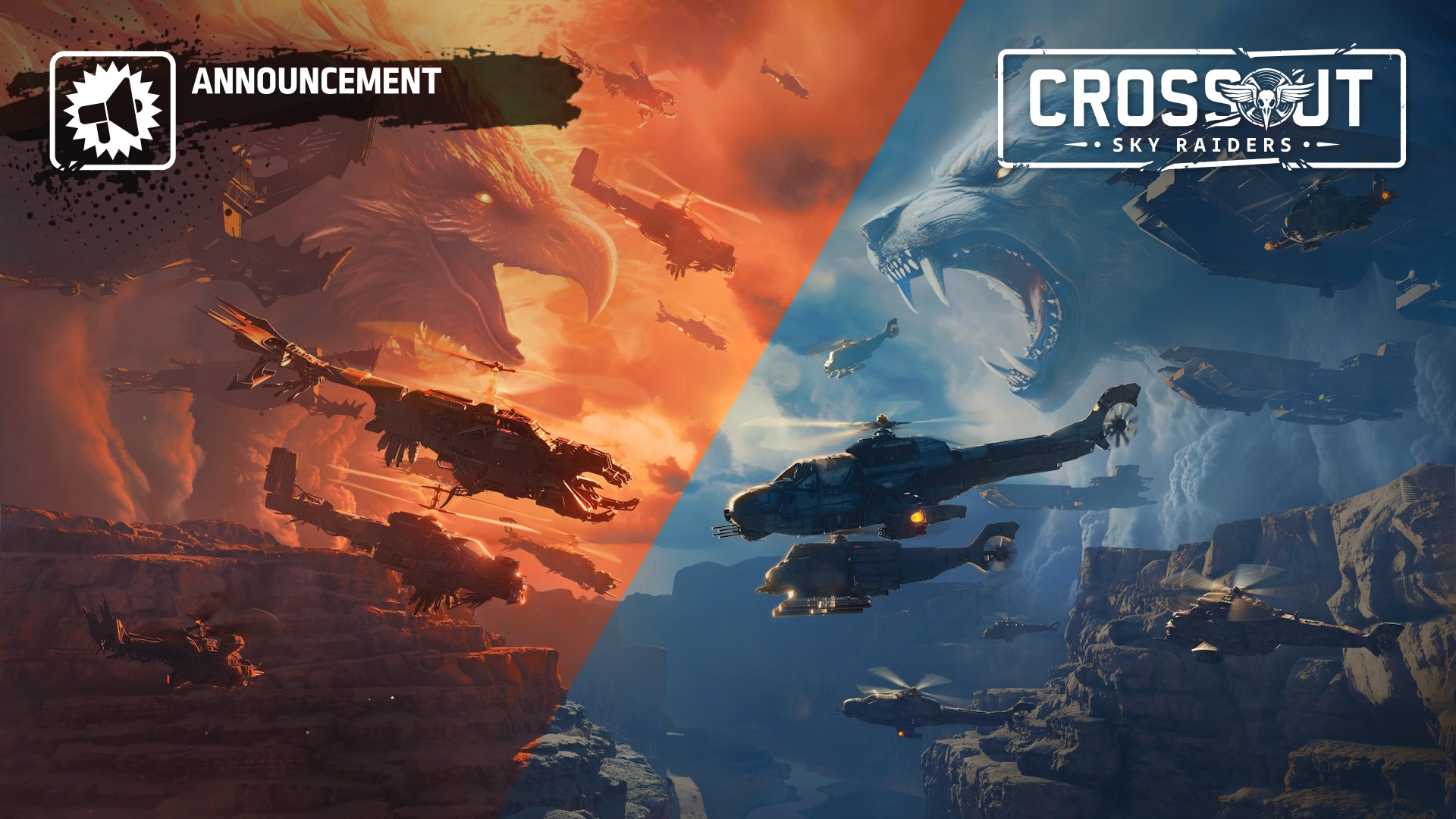 Survivors!
The "Sky raiders" update is here, which means everyone can now assemble their armoured aircraft and take into the air. But this concerns not only you — the factions have gathered their strength, prepared a new fleet of vehicles, and are ready to enter the battle for dominance over the Valley!
The Kaganate and the Brotherhood have mobilized all their battle groups, eyewitnesses report the first aerial skirmishes, and even giant aerial platforms have been seen in some places! Structures of this scale are unusual for the current times, and we can see all the signs of preparation for a major confrontation. And you will become its direct participants!
Starting on Monday, October 16, the Faction war will begin in Crossout — a long-term event where you can join one of the sides of the conflict and receive valuable prizes.
To participate, you only need to select one of the following factions as active:
Scavengers or Steppenwolfs — to participate on the side of the Brotherhood
Lunatics or Firestarters — to participate on the side of the Kaganate
After this, all the reputation you earn in battles will also be taken into account in the progress of the Faction war. The result of each side is the amount of reputation the survivors have earned by working for one of the factions it relates to.
Since you can change your active faction at any time, you can always change the side which you earn points for.
The event will consist of 5 stages, with each lasting one week — the last of these stages will end on November 19. Based on the results of each stage, one component of the final reward will be determined, depending on which side emerged victorious.
At the end of the Faction war, all survivors will receive a set of 5 rewards, compiled in accordance with its results. This way, each participant directly influences what makes it to the final list. The rewards can be obtained even without participating in the event — for example, by activating one of the factions not listed above. However, in this case, you won't be able to affect the result of this event!
Choose a side, fill up your fuel tanks and get ready to fight for the title of the new overlord of the Valley!