Hello,
Problem:
At the moment, searching and finding a clan is quite difficult.
The in-game clan tab gives access to the "join a clan" page
This page shows the Clans name, tag, language, recruitment, and roster, but not the Clans' level: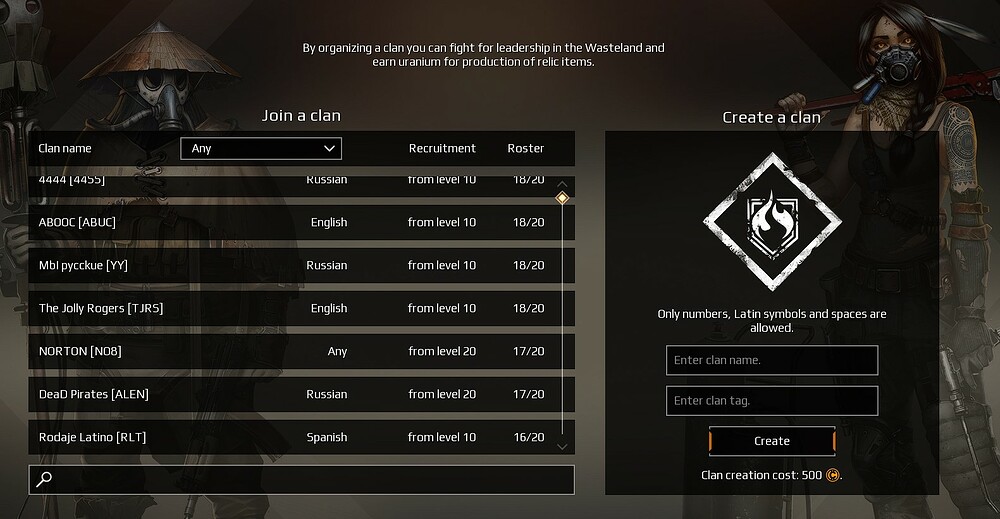 The Leaderboard on the other hand, shows the Clans' level with the score, but not the clans' language. Also, there is no search option on this page:

So, to find for example, a clan that is speaking language X (to be able to communicate), with at least 14-16 players (to increase chances to find more active players), that is recruiting (in rare case some clans are not), AND is around our own level, that is quite difficult as it forces us to swap from a page to another and try to find clans 1 by 1 to see if they fit all those criteria.
Let's say I find an half full Spanish clan in page "find a clan", I then have to go to the leaderboard page to manually scroll through all the clans to find it and see if it has roughly the level I want, for example mid-Bronze.

On the opposite, if I find a 15/20 low-tier Silver clan in leatherboard, I then have to go to the "find a clan" page to search it and see if the language matches and if recruitment isn't closed. If the language doesn't match, I have to repeat those 2 steps 1 by 1 for each clan.
Also, those 2 pages don't indicate the server mostly used which can cause the unexpected and unpleasant surprise of playing with a bad ping with an uncomfortable time zone difference (there are Spanish, English, and French players both side of the Atlantic Ocean).
Even if there is some quick communication with a clan member before acceptation, there is still some miscommunication about server used, time slot played, language spoken, or simply underestimated level difference, which cause the player to leave the new clan and get the 3-days waiting period before resubmitting an application.
On the other hand, once the player submit an application, the clan officer/leader can accept it without discussing it with him and kick him without penalties the same day, so the clan has little to lose to give a try.
Example: One day I submitted an application (as it's also the only way to reach and talk with a corresponding clan member), but the officer barely talked to me and accepted me. I found out the clan was mainly speaking Czech, which I don't speak. I left the clan the next day and had to wait 3 days before re-applying in another clan.
So it can be quite difficult and time consuming to find the clan we are looking for. The Discord clan-recruitement channels can help but not all clan post an ad there. Some clans with good amount of players are not specially recruiting nor refusing new members.
Suggestion:
Make a tab page that is regrouping all information at the same place.
Or at least add a search box in the leaderboard page so we can quickly find a clan and see it's overall league tier.
Add a way to reach a clan member without applying (as premature acceptation can lead to clan quit/kick and the following 3-days waiting period.)
Add an indication about the timezone of a clan (to avoid bad ping and schedule conflicts)