can someone look into this ?
thank you…
i consonantly have to edit my posts for 1 hour now
1 second after i do 'BAM' another flag by the same person…
this really has to stop…
Greetings,
I hate to seem stupid, but how will I know one of my posts was flagged?? Big RED Flag waving, or someone from admin saying "that was not acceptable"?
Thanks for the response, you know who I'm talking about… Thank you…
You'll get a message on the notifications.
I second this thread… The flag system is being abused.
If it doesn't stop, I'm joining in.
No joke.

I mean, there are thread starting posts with 8 or 9 likes (very high for this forum) and dozens of supporting posts that have been flagged.
It's BS.
Yeah give the chronic flag system abuser a taste of his own


Someone is always abuseing the flag system. Its only a handfull of people.
It's not like we didn't see this coming when they shut down the old forum, dumped us all here, and we read the details. I'm pretty sure we complained about this potential on day one. Now here we are. This is the worst it's ever been.
Crummy feature with predictable results.
Hi,
We are looking into it.
Thanks and regards.
Ya, this looks more like a witness protection program in action.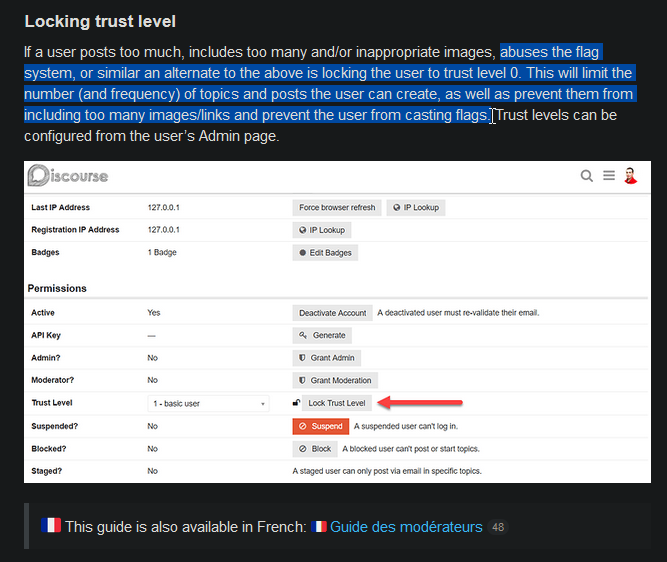 Get on it
I already sent it to him.
I don't think they've moved from default settings on a lot of stuff in the settings. The other main portion that goes with this is the setting for global max flag limits it goes up in multiples based on trust limit. Then there are some smaller settings for how it handles flagging from higher to lower trust limits.
The forum mods have been looking into it since May when I directly messaged a couple of them, they clearly know who is abusing the system but decided not to do anything because they probably assumed the person would lose interest and stop, not calculating that their are people so petty they can hold onto a grudge till they pass away!
I would get their hesitancy to do something if it was just 1 or 2 people having a flagging issue, but when you get over a handful to more complaining about it, agreeing it's a problem even those you may not like each other then this zoo isn't gonna last long because 1 zoo animal out of the bunch creates a ruckus that sets off the others and the zoo keepers do nothing!
I would think striping this person(s) flagging capability for 3 months or suspending them for a few weeks to see how much the flagging goes down would be a good thing, cause I am sure just 1 or 2 individuals do 95% of the flagging!
I'm not sure they want to chasten their favorite and most productive corporate shill. He's all the more important now that the game is a dumpster fire too.