Additional information about the "Big chase" update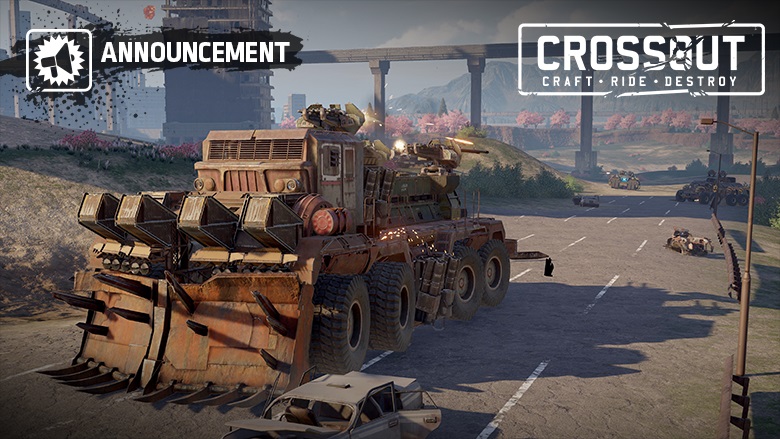 Hello!
We remind you that the update 0.13.80 is scheduled to be released next week. This update will include a new season with a battle pass, an updated "Chase" mode, as well as a redesigned co-drivers system and a new PvP map.
Like we promised earlier, today we will share additional information about the update.
We remind you that all the new features described in the "Developer blog" are not final and may be changed before they are implemented into the game or may not make it into the game at all.
New amusement rides for the range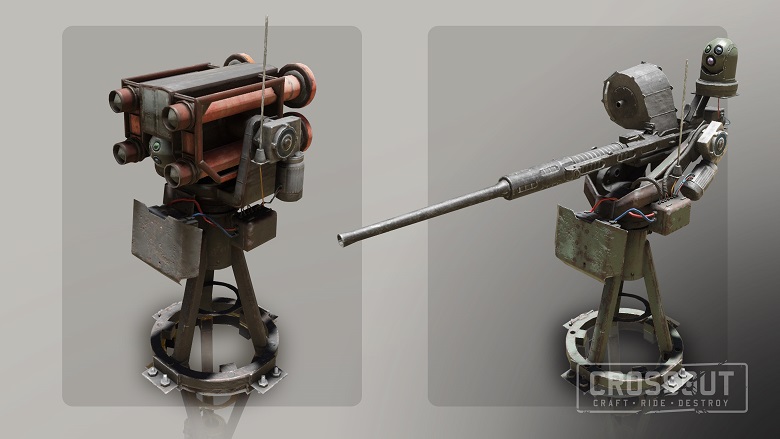 In this season, all battle pass owners will be able to receive new amusement rides which will add more various challenges to the track on your range. These rocket and machine gun turrets can be activated and deactivated. Activated turrets will constantly attack your armoured car. Each type of turrets can be activated and deactivated separately.
Co-drivers
First of all, we'd like to thank everyone who took part in the mass testing of the new co-drivers! Thanks to your feedback and suggestions, we've also made one very important change (and there may be more of them till the update is released).
Mass limit bonus skill
Among other popular comments, the requests to add a skill to increase the mass limit of an armoured car stood out noticeably. We heard you and will definitely add such a skill, but there is one important point to consider. In its current version (+500 kg to the mass limit, like on the game servers), this skill affects the in-game balance too much, and, in fact, provides an ultimate and non-alternative bonus for many builds. This is especially true for lightweight and medium armoured vehicles.
In order to balance this skill against all others, we will change its mechanics. Now it will provide a bonus to the mass limit in the amount of 3% of the current armoured car's mass.
For example, an armored car of 15,000 kg will receive an increase of 450 kg, which is almost identical to the original bonus. As a result, practically nothing will change for heavy armoured vehicles. But for lightweight and medium vehicles, the difference will be within a few heavy parts that will need to be removed or replaced with lighter ones.
Co-drivers for other types of weapons
Separately, we'd like to answer questions about co-drivers who would have special skills, for example, for plasma weapons.
Previously, it was mentioned that the starting amount of co-drivers will be expanded. In future updates we plan to add more specialized heroes, which would work well with certain types of weapons and match certain situations on the battlefield. As a result, almost every player will be able to find a co-driver that will fit their style of gameplay.
We will share the information about the upcoming co-drivers with you in advance so that you can evaluate their pros and cons. By the way, we already have some ideas regarding the upcoming co-drivers, so you can expect new information about them in the foreseeable future.
Resource to unlock new co-drivers
The resource for unlocking the co-drivers (previously titled "glory points") will be called "Intel". How will you be able to earn it?
Upon reaching reputation level 30, the player is given a certain amount of intel as a gift, for which you can unlock one co-driver of your choice.
You can start earning intel in PvP battles (missions) when you reach reputation level 30 with the "Engineers" faction.
In total, a certain amount of intel can be stored on one account at a time. Any intel that is obtained in battles over the limit does not accumulate.
A certain amount of intel can be earned in battles in one week.
An active premium subscription will increase the weekly limit and the amount of intel received for each battle.
Compensation will take into account both the normal levels of old co-drivers and the levels that players have spent resources on. For one fully leveled-up old co-driver, the player will receive enough intel to unlock one new co-driver.
All intel acquired through refunds, purchases of packs, giveaways and gifts are added and stored over the limit.
Balance changes
Structural parts
In this update, we will make changes to the formula that automatically calculated the parameters of structural parts. In some cases, the calculation may have been done incorrectly. It is planned that the parameters of the following parts will change:
"Left buggy corner" and "Right buggy corner"

Durability increased from 3 to 4 pts.
PS increased from 5 to 11.

The durability of "Digger side" increased from 62 to 64 pts.
The durability of "Backend" increased from 118 to 155 pts.
"Mengu"

Mass increased from 139 to 296 kg.
Durability increased from 86 to 183 pts.
PS increased from 30 to 68.

"Haraate"

Mass increased from 161 to 343 kg.
Durability increased from 69 to 212 pts.
PS increased from 35 to 77.

"Gessan"

Mass increased from 263 to 562 kg.
Durability increased from 113 to 347 pts.
PS increased from 58 to 126.
Crossbows
With the "Big chase" update, we will refine the physical models of the "Spike-1", "Toadfish", and "Phoenix" crossbows. After those changes, their size will decrease and they will correspond to their visual models better.
Cabin "Master"
Previously, we have already announced changes for the "Master" cabin. After mass testing, we decided to improve the cabin a little more and reduce the maximum heating received from the perk to 25%. As a result, the full list of changes looks like this:
Cabin type changed to "Medium".
PS reduced from 2400 to 2100.
Max. speed cabin reduced from 95 to 75 km/h.
Tonnage increased from 5000 to 5350 kg.
Weight limit increased from 10000 to 14100 kg.
Mass increased from 750 to 1150 kg.
Now the cabin heats up to a maximum of 25% (instead of 100% before).
Now, the automatic activation of the parts restoration occurs immediately after the cabin heats up to the maximum possible level. You can still turn off the cabin heating manually at any time.
Now the perk description looks like this:
When the module is activated, the cabin heats up to 25% for 5 sec., and then cools down for 5 sec., restoring 10% of durability per sec. to the parts that are connected to the power nodes. After 2 sec. of being active, the module can be disabled. This will stop the heating and reduce the durability recovery percentage accordingly. Cooldown is 10 sec.
Disc launcher "Ripper"
Now the weapon rotates freely around its axis.
Durability increased from 484 to 581 pts.
Mass increased from 540 to 648 kg.
Disc impact impulse increased by 40%.
Weapon rotation speed increased by 25%.
The time before the disks that are stuck in objects are destroyed has been increased from 5 to 7 sec.
Damage received from colliding with discs that are stuck in objects has been increased by 2 times.
Drone "SD-15 Vulture"
We plan to leave the balance tweaks unchanged:
Target acquisition time reduced by 19%.
The drone's flight speed increased by 5%.
Enemy detection range increased by 17%.
Cooldown time reduced from 13 sec. to 12 sec.
Explosion radius increased by 80%.
Blast damage reduced by 53%.
Periodic damage increased by 33%.
The drone now deals periodic damage 5 times before it explodes.
Pulse accelerator "Astraeus"
The physical size of the projectile has been reduced by 75%.
Next week, we plan to launch our official livestream, where we will show all the new features and major changes in the upcoming update. And tomorrow we invite everyone to take part in the final mass testing of the new co-drivers. Don't miss it!